our program winter 2002
(december to april)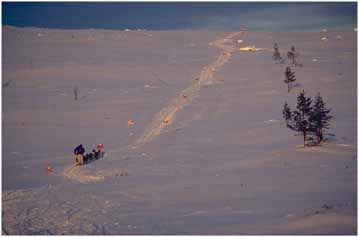 90 well-trained huskies are awaiting for you for to explore the scandinavian winter-wilderness. You can choose from different programs - here you find your very own winter-experience!

Short-Tours
Try and get caught by a special taste of winterlife in Scandinavia:
During the main holiday season around Christmas and Easter we offer our "short tours" - drive your own dogteam for 1 or 2 hours on our training trails yourself or enjoy the ride through the Swedish winter-wonderland as a passenger sitting in the sled on warm reindeer skins.

Mushing-Adventure
Our kennel - Höstsätern's Hundgard - is well known for its athletic and friendly huskies which dare to take you out on 3- to 6-day trips through the swedish-norwegian borderland between the lakes of Grövelsjön, Femund and Rogen. Together with our guides groups may tailor their "dreamtour" due to their preferences, travelling different landscapes such as forests, lakes and/or the high-mountains.

Here you find all details and rates.



---
If you would like to get further information about dogsledding in Scandinavis mountains please email to info@iditarod.de.
Further information about rates and dates you will get from Maria at the Idre Touristoffice:
Tel: +46 (253) 20 715
Fax: +46 (253) 20 888
email to info@idre-turistbyra.se
---



Copyright © 1996 Claudia Schare
letzte Änderung: 29.4.2001